WORLD PREMIERE OF LOWELL LIEBERMANN'S STRING QUARTET NO. 5
Thursday, Nov 6th, 2014
by: Ken Fischer
Music Accord received a newsy and image filled account of the world premiere of Lowell Liebermann's String Quartet No. 5 from Ken Fischer, the President of University Musical Society at the University of Michigan.  
The world premiere of our Music Accord-commissioned Lowell Liebermann Quartet No. 5, Op. 126 that took place on Saturday, September 27 at the University's Rackham Auditorium, UMS's home for chamber music.  Folks, we have a winner on our hands. It's a terrific piece, the Emersons loved playing it, our audience loved hearing it, and our intelligent music/dance critic Susan Isaacs Nisbett gave it a great review on her blog (see below).
It was the first concert of our 52nd annual Chamber Arts Series. Before the quartet came out, I announced from the stage that art history professor emerita Ilene Forsyth had given UMS a campaign gift to endow a chamber music concert on the series -- forever. I had Ilene stand, which she did with some reluctance, at the seat that she had occupied since the series began 51 years before. The audience responded with robust applause and cheers and required her to stand up a second time before they stopped.
If you want more about the concert, read the interview with new cellist Paul Watkins, and find out how our audience felt about the piece and the concert, go to www.umsLOBBY.org, our interactive website, and search for Emerson String Quartet.
The composer shakes hands with Emerson cellist Paul Watkins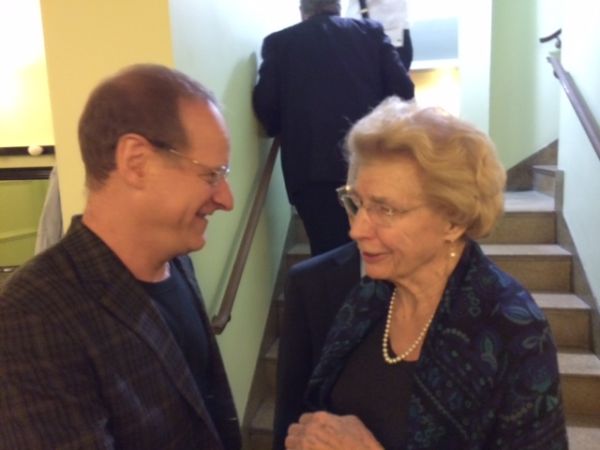 The composer with UMS donor Ilene Forsyth.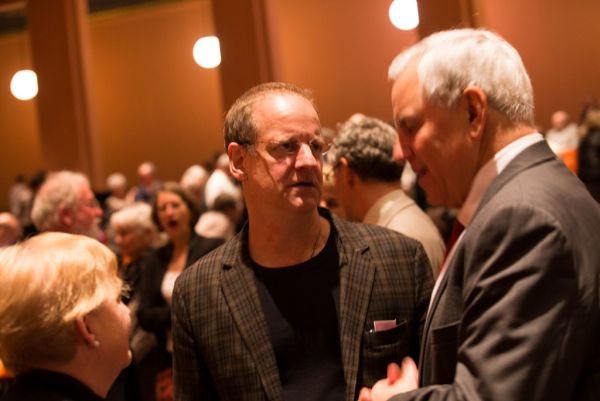 Mr. Liebermann with UMS President Ken Fischer and his wife Penny.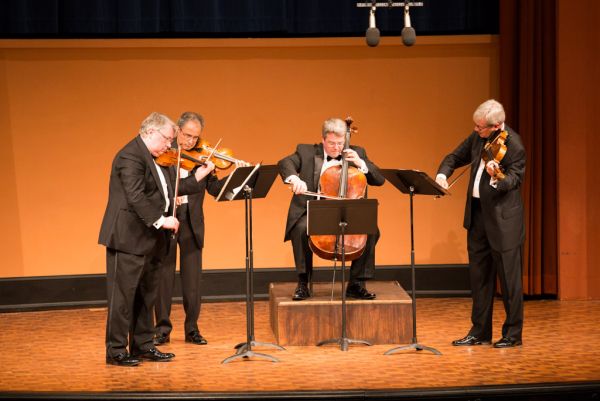 The Emerson Quartet performs the world premiere of Lowell Liebermann's String Quartet No. 5.